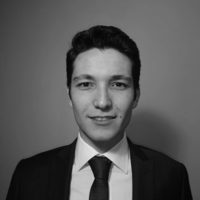 Ferhat Ercümen
Academic Supervisor for Moot Courts
Ferhat Ercümen is a co-founder of the current Executive of the Board of Directors of Istanbul Center of International Law where he lectures a course on International Humanitarian Law.
Mr. Ercümen ranked 1st top student at the nationwide university entrance exam and graduated from Galatasaray University Law School at 2016. He represented Galatasaray University at the 28th Jean Pictet International Humanitarian Law Competition and awarded as one of the best three orators. He is currently pursuing an LL.M. degree at Geneva Graduate Institute. Previously, Mr. Ercümen attended summer programs at the Law Schools of İstanbul University, Helsinki University, Bochum Ruhr University, Université Libre de Bruxelles, Poznan Adam Mickiewicz University, Tilburg University.
Mr. Ercümen has advanced level of English and French.